12 Kitchen Organization Ideas That Will Make You Fall in Love With Your Kitchen All Over Again!
I think most of us would say that one of our favorite rooms in our homes (and definitely the one where we spend a lot of time) is our kitchen. I'm always on the lookout for ways to make my kitchen more organized and streamlined, so when I stumbled upon this list of 12 organizational ideas from HGTV I figured I'd share these tips with all of you as well.
#1: Color-Code Your Serving Ware
Even if you just have a few different hues in your collection, organizing them by color is a great way to display them. Especially if you have open shelving or glass-front cabinets in your home.
#2: Label Your Containers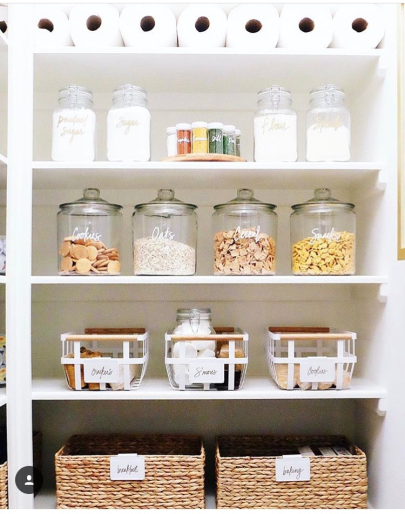 I've been wanting to do this to my pantry for forever! Imagine how easy it would be to find what you need in this pantry! If you have decent handwriting, you can label them using a marker; or if you're like me, print some labels on clear stickers.
#3: Create Uniformity in Your Pantry
Going along with the previous tip, you'll feel so much better opening your pantry door to find a streamlined look with all your containers looking the same. All it takes is a trip to IKEA, Target, The Container Store, etc. to find coordinating containers for all your baking staples, cereals, rice, pastas, etc.
#4: Organize Around Your Needs
Look, we all have different needs in our individual kitchens. So while you may need a drawer for all of your chopsticks, someone else may need a drawer for all of their cake-decorating supplies. Whatever your needs are, there's a creative solution for how to organize it most effectively.
#5: Group Pretty Serving Pieces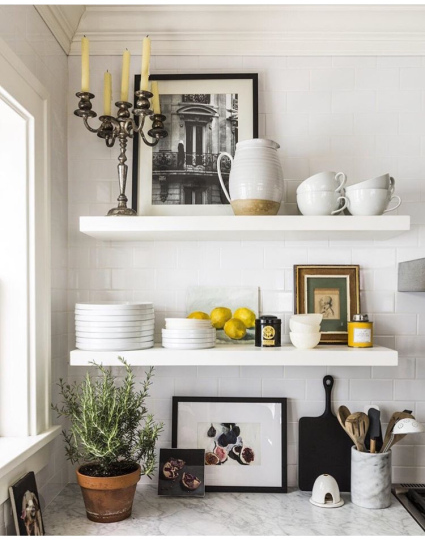 I have some more formal serving pieces that I actually use as decor in our formal dining room. We have an open-shelf buffet where we display our white and crystal serving ware. This is especially great if you have special vintage/heirloom items you want to show off.
#6: Opt for Open Shelving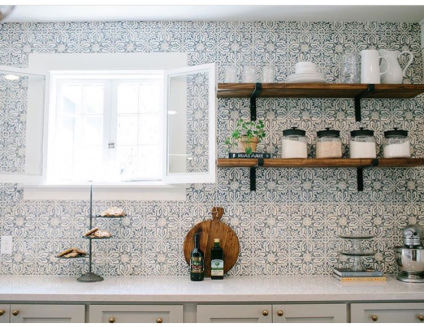 One of the most popular recent trends in kitchen design has been the concept of open shelving. The only key is it takes a little more love and attention as you constantly have to make sure all of your dishes and supplies look beautiful. But when done right, open shelving has stunning visual impact in a kitchen.
#7: Keep Your Fridge in Tip-Top Shape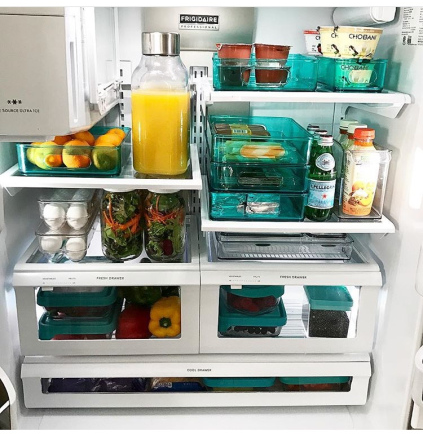 Just as keeping your pantry streamlined and organized will bring you joy, keeping your fridge clean and organized will certainly make you feel better each time you open it. In our house, we institute a weekly fridge clean-out where we throw anything away that has expired or hasn't been touched (i.e., unsuccessful dinner leftovers). Another great idea for organizing the fridge is to group like items together in smaller containers. For the kiddos, you might consider making room for a special "grab-and-go" snack bin that they can quickly and easily access so they don't go digging through the whole fridge messing up your system.
#8: Keep Dishes Stored Away

Nothing is more stressful to me than cluttered kitchen counters or a sink full of dishes. But you may have found that your kitchen simply doesn't have enough cabinet space for all of your dishes. If that's the case, but you have some empty drawers, consider repurposing them to house your dishes. By using a peg system, you can ensure they'll be stored neatly and safely away.
#9: Try Containers for Your tools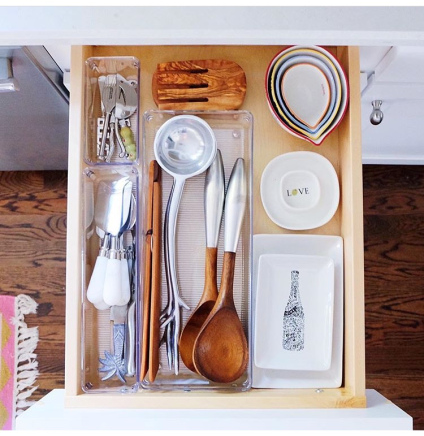 Is your kitchen tool drawer an utter disaster? Consider buying some baskets and bins to sort and organize them. (Pro Tip: Be sure to measure your drawer before you go buy containers to make sure it will fit.)
#10: Utilize Wall Space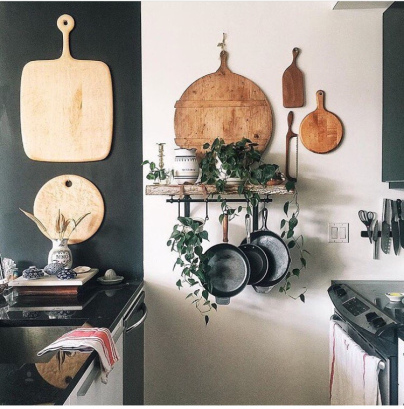 If you've got empty wall space in your kitchen, why not put it to good use? Install a spice rack or a coffee mug rack where you can keep some of the stuff clogging up those highly-coveted upper cabinets. Or you can use a simple rail and hook system to hang items like wooden spoons, cutting boards, and colanders from.
#11: Take Advantage of Every Inch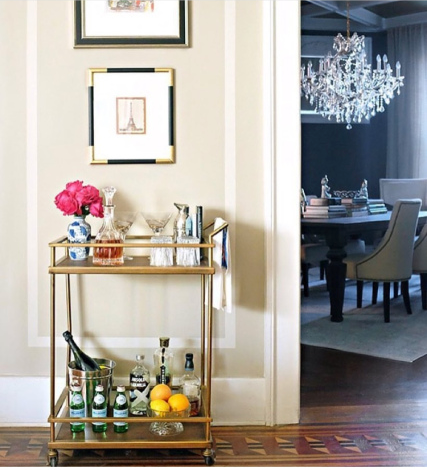 Let's be honest. Our kitchens are the room in the house where we probably have the most stuff, so it's important to find creative ways to take advantage of all the space you can. If you don't have enough built-in storage space, look for additional pieces you can implement that would give you extra storage like small shelves or carts.
#12: De-Junk Your Junk Drawer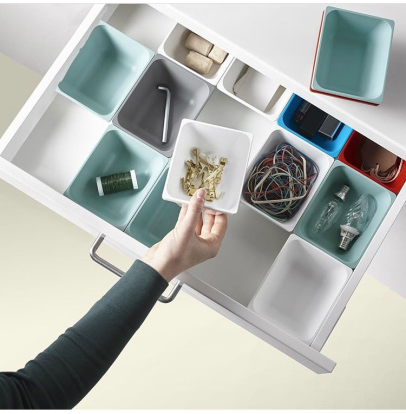 Don't feel bad. We all have one. We've all got that catch-all junk drawer in our kitchen filled with batteries (both new and dead), pens, manuals, matches, etc. Take some time to buy some drawer organizer boxes so you can sort all that junk into an organized system. Doesn't that sound so much easier?
Thanks to HGTV for this great list of ways to organize our kitchen and start the new year off right!