3 Apps You Need To Know About If You Love Hiking!
This tease of warm weather has got me looking forward to all the hiking around Truckee and Lake Tahoe that is to be done in the summer! I wanted to find the best App for our specific location so I downloaded all of the hiking Apps for Iphone to rank them so you don't have to do the dirty work!
The Apps in question
---
My Thoughts
After looking at each one of these apps and how they are designed this is BY FAR my favorite of the lineup! There are SO many hikes and I love the layout and detail of each of them. You can set up an account if you would like but you aren't forced to like many of the others. The entire thing is free (none of the other apps allow you to use maps offline for free), and who doesn't love free?? This app has some really awesome features and is just extremely straightforward, beautifully designed and organized which I appreciate. It is super user-friendly, self-explanatory, you don't have to sign up, and it shows the hike from start to finish on the map instead of just using the "pin drop" that all the other apps used. I would highly recommend this app if you are looking to do any kind of hiking this summer!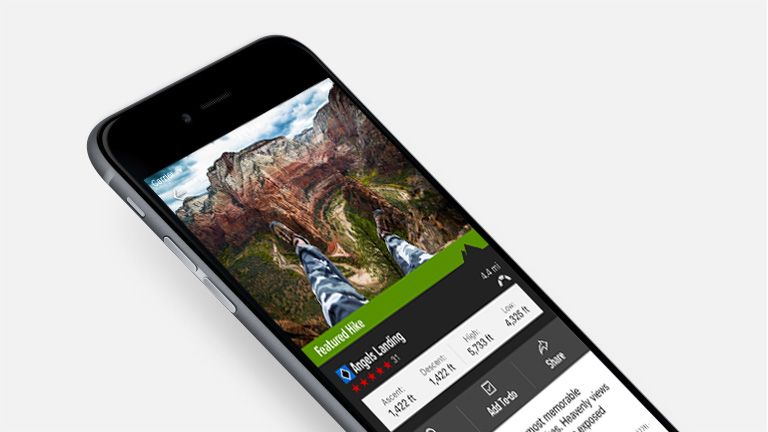 In-Depth
This app features lots of hikes around Lake Tahoe, a couple near Donner Lake, one near Alder Creek, a few near Squaw and none around Glenshire, Boca, Verdi, or Northstar (Legacy Trail is not on here but I would expect it to be added soon). There are "featured hikes" which looks like they are just the highest rated hikes. When you click on a specific hike it shows you multiple pictures of scenes throughout the hike, it also tells you how long it is, and the elevation throughout the hike. There is an "Overview" section (For example: "This loop offers a great half day trip for the fit hiker, complete with alpine lakes for water refills and great views over South Lake Tahoe"), the App is connected to your maps so you can get driving directions directly from the same page, there are "family notes" (For Example: "Easy access from South Lake Tahoe"), a section for "Need to know" (For Example: "There were a lot of bees for the first mile, so watch out. Overall only about 20% of the trail is in the shade, so bring sun protection") and a "Hike Description and Highlights (For Example: "Most of the hike is on smooth, well-maintained trail with only about 25% of the trail on more rocky, uneven terrain. The northern half of the loop section has more shade than the southern half, so plan accordingly"). You can connect your facebook account to the app to sign in and you can update the "Hike Conditions" based on the weather and if the hike was "all clear", had "minor issues", or is "bad/closed" for your fellow hikers. You can also "Check In" and keep track of how many miles you went and how long it took you. You can"Add a Hike" to your "To-Do List", rate the hike by giving it anywhere from 1 to 5 stars, and rate it in difficulty as well. Last but not least you can "share" the hike easily by sending a link to the info page through text, email, twitter, facebook, etc. On the side menu it shows "Featured Hikes, "gems", and "best photos" under "BEST OF". You download the map so you can use it offline easily, you download by state so be sure to download Nevada if you want to hike on the Nevada side of Lake Tahoe. As you are looking at the map you can look at a hike and see the elevation throughout the entire hike, so if you want to skip over a more difficult part you can start your hike after the elevation drops again.
---
| | |
| --- | --- |
| | |
Price: Basic = Free | Pro = $30.00/Year | Apple | Android
My Thoughts
Let me just start by say that I really wanted to love this app! It is absolutely wonderful if you want to take kids or dogs with you or you just want to filter a hike specifically to you. If you want to download any maps offline you have to upgrade to the $30.00/Year version which I just think is the biggest turnoff of the whole app. Why pay for the same thing you can get for free from another app? This app also makes you sign up, there is no "just browsing" here and it has ads throughout the experience but thankfully, not an overwhelming amount. My favorite thing about this app is how descriptive the hikes can get, a lot of trails tell you when the best time of year to hike them are and if dogs or kids would be okay, also, some mention that most of the hike is in the sun and remind you to be prepared for that!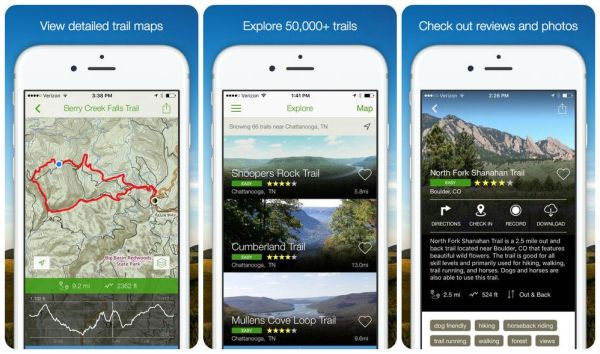 In-depth
The app opens are lets you know it "has the largest collection of trail maps anywhere, curated by 4 million hikers, backpackers and mountain bikers like you". You can filter a hike by "length, rating and difficulty level, dog or kid-friendly trails, or find trails with great views" Look at reviews, photos and detailed trail maps and get driving directions to the trailhead". You have to sign up - you can connect your facebook though. You can look at trails from a list version or map version, the map version just shows more of a pin drop, not showing the trail from start to finish like Hiking Project does. When you click on a pin drop hike it gives you the option for driving directions, you can "check in" and then you do you can start to "record your track". To download your map and use it offline you have to pay $30.00/year. It shows a brief description of the hike (For Example: "Martis Creek Trail is a 4.1 mile moderately trafficked loop trail located near Truckee, California that features beautiful wild flowers and is rated as moderate. The trail offers a number of activity options and is best used from March until October. Dogs are also able to use this trail but must be kept on a leash). Next, it shows "tags" of specifics of the hike (For Example: "dogs on leash, mountain biking, forest, trail running, birding, hiking, etc"). You can see a full view of the start to finish of the trip and it also shows an interactive view of the elevation throughout the hike. There are photos of the hike and reviews, all which you can read. It has Ads. You can add "favorites" by clicking the heart icon. You can "record" at any time on the bottom of the screen."History" keeps track of all of your recordings (gps tracks your whole hike). The "Profile" shows your reviews, photos, people you follow and settings. You can make your account private, and you can follow your friends and see what hikes they have completed, reviews they've written and their photos. Lots of hikes and lots of reviews - more than Hikers Project
---
| | |
| --- | --- |
| | |
Price: Basic = Free | MVP = $30.00/Year | Apple | Android
My Thoughts
Honestly, this app was INTENSE. I think for the right person this app could be really cool, but that person is not me. It is very personalized, you can connect any and every fitness app or device and sync it all there. The app doesn't give you any kind of instructions or tutorials and has almost no words on the first screen, just lots of images that you have to play around with to figure out what each means. Also, there are ads all over the app and some of them are those ones that really sneak up on you and you accidentally click on (those ones always get me!) so if you're thinking about getting this app just be prepared! I wouldn't be surprised if there was a book called "MapMyHike For Dummies" to get you through every detail of this app!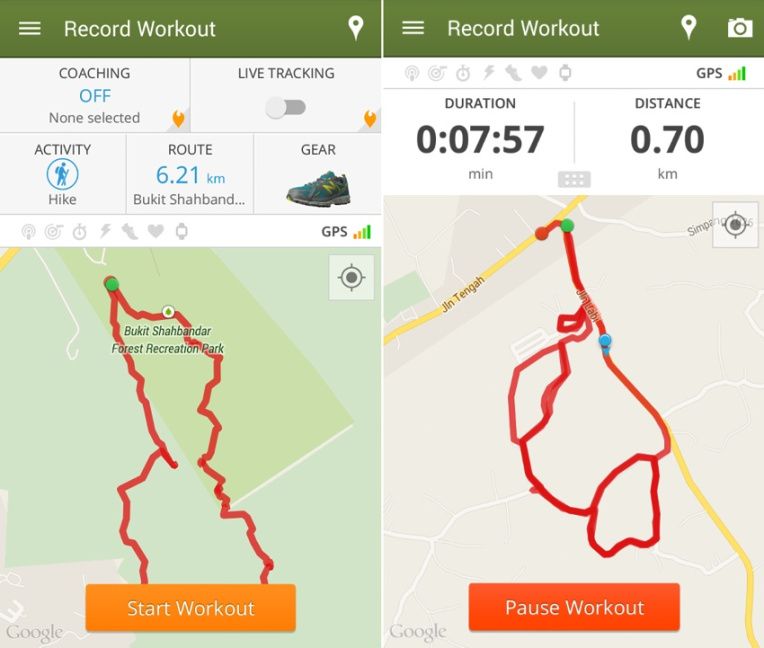 In-depth
When you open this app you have to Join, and you can sign up with Facebook. Right off the bat the app feels the most user-friendly and honestly just pretty. The first thing you do after you sign up is personalize your experience - weight, and height, and it pulls your profile picture from Facebook. Next, you can connect this app with "Connected Footwear", "HSport Wireless Heart Rate", "HHeart Rate", HBand, HScale, HHealthbox, HArour39, connect powered by Garmin, Jawbone, Withings, MyFitnessPal, FitBit, Nike, Suunto, Misfit, WeGo, Polar, and Trago. So pretty much anything and everything! After that, it takes you to your location and doesn't give you any instructions or tutorials on anything. In the top middle of the screen, it says "Load Route" in light gray font which takes you to a screen that shows "Nearby", "Bookmarked" and "My Routes". The routes only show up in list form (so you can't see them on a map) and you can only filter by the distance of the route (1MI to 200MI). Once you click on a route it will show it on the map and you can zoom in and out and figure out exactly where it is and see the start and finish, along with the elevation throughout the hike. The only other details it shows is the "Route Leaders" which are the people who have hiked that route (you can't click on them or see a review or anything, it just shows the name of the person, the date they completed it, and the time it took them). There are ads that surprise you and take up the whole screen as well as ads throughout the app. The bottom of the App shows 4 tabs and a + sign in the middle. The far left tab is the "feed" which allows you to "add friends" by "sharing the post" on facebook or inviting people through email...even though your facebook is connected (maybe none of my friends have the app...but I doubt it). There is also a tab for "Challenges" which currently include "Under Armour" and "Kohls" where you can win actual prizes and money (pretty awesome!). You can also create a challenge by "most steps, most workouts, most distance, most calories burned, or most workout time" and categorize by "activity type" (i.e. run, walk, hike, general yoga, class, general gym, swim, etc), set the duration from day to week to month, and you can repeat it if you would like. The next tab is "training" where you can manage your "goals", you can pick between "set a baseline, take it up a notch, kick it into high gear, or create your own goal by selecting a specific activity, # of workouts, and how many times a week or month for the time period you choose. The far right tab on the bottom shows all the different background changes, profile, add friends, look at routes, goals, connect apps, etc. The final option on the bottom bar is the big + sign in the middle which allows you to "post status", "take photo", "track workout", "log workout" or "find friends" (when I clicked on this "find friends" the "suggested friend" was actually someone I know!) When you have a friend you can see their friends, their awards (which you receive by doing hikes in better times than others before you), and their recent workouts. Overall it feels like a bit much for a hiking app. Also, you can upgrade the "MVP" to get a lot of fancy things that you don't need but would be pretty cool for $30.00/year.
---
Other Apps I Tested
My In-Depth Thoughts
There is a nice tour right when you open the app. You can sign up and get "your first map free" (you can connect your facebook as a way to sign up) or you can choose "just browsing". I signed up through facebook because it's just too easy not to...and who doesn't love free stuff! Right away this app gives you instructions on how to navigate, showing that the left-hand drop down menu is the main menu. The trails are in pin-drop format but they are on a map with a list on the bottom that you can hide or show depending on your preference. When you click on one of the pin-drop trails it shows you can "add trails to favorites, search for more trails close by, share with friends, review, or submit photos". You have to purchase each trail for offline use if you want it which, as I mentioned before, doesn't seem worth it since you can get it for free with Hiker Project. Each trail has a description (For Example: "Truckee River Legacy Trail follows the river's south side, providing scenic views and access to two recreational amenities: Truckee River Reginal Park and Riverview Sports Park. The paved trail has recently been extended from the latter park to Glenshire Drive via a bridge over Martis Creek. In the future, a westward extension to the trail will provide additional recreational access to Donner Memorial State Park"), each hike has a rating, shows the length, the surface, the activities you can do on the trail (bike, inline skating, wheelchair accessible, walking, cross-country skiing), the type of hike (Greenway/Non-RT) and the Directions (does not open up a map and give you driving directions, it just tells you where parking is available (For Example: "Parking is available on the current west end of the trail in Truckee River Regional Park off Brockway Road"), so unless you know the area and what that means you may have a hard time getting to each trail. The side menu shows "trails near me, advanced search, my trails, map credits, settings, and about". The advanced search lets you look by location, trail name, activity you want to do, surface, length, and/or type. The Trails Near Me view shows a picture of a list of trails, the name, the state, the length of the trail, the surface, and the rating out of 5 stars and shows the trail on a map...but there is no real way to tell apart one trail from another on the map unless you click on it to find the name. The reason I wouldn't include this in the list of 3 is because it just feels too similar to AllTrails, but I would say AllTrails is better.
---
My In-Depth Thoughts
The first screen you see with this app is nice and simple, it looks like you only have the choice to sign up but in the bottom left-hand corner, there is the option to sign up "later" so I clicked that. This app does not connect with facebook so to sign up you would need an email and a password. If you don't want to be sent back to the place it asks you to sign up you will want to skip over picking your country. You have to allow this app to "use your location" even when you aren't using the map which I just think is a little annoying. Once you're in there are no instructions or tutorials or anything so lets start with the top tabs, the far left is the search, you can filter by activity, distance of the trail, difficulty, or user rating (none of these are straight forward, they are little icons that you have to click on to realize they are filters). The map is not very user friendly, all you can do is zoom in and out on it, you can't click on trails from the map, you have to go down and see them in list form, which is a variety of pictures people took and pictures of the map of the hike. This part and the rest of the app aren't uniform and I personally love a beautiful and well-organized map (if that's not important to you, you may have a different experience with this one). The full pictures are actually trails grouped by certain things (For Example: "USA Winter Collection") and when you click on it, it will take you to a list of hikes in list view, showing: the distance, the difficulty, the rating out of 5 stars, the location, and a small description. (the first one I clicked on showed a list of hikes which included one in Phoenix, AZ, Atlanta, GA, and New York City....so make sure to see where you're searching before you fall in love with a hike you think is close to you!). The next tab on the top takes you to the first page you were on after skipping the sign-up, the map view. There is a "New" Icon on the bottom right-hand side that shows you a list of options to do, "Record Track, Follow Route, Create Route, Add POI, and BuddyBeacon". All of these have their descriptions below them if you're interested. Overall this app is a bit too confusing and jumbled for me. It feels very outdated and just feels like a lot of work to really understand how to use it to it's fullest potential and honestly it just doesn't seem like one I would ever recommend over the other options out there.
---
When you first open the app it spends some time "downloading adventures" but says it will only happen once and should take less than 2 minutes. Well after a couple second the "downloading adventure popularities failed" so.......it tried again and it did the same thing. If you try it I hope you have better luck!