Snow, Snow and More SNOW!!
Mother Nature is off to a fine start to the year 2017, bringing a series of snow storms that figure to cover ski resorts in plenty of powder this week.
The Tahoe-Truckee region is under a winter weather advisory until 10 a.m. PST Tuesday, according to the National Weather Service in Reno, before a winter storm warning kicks in from 10 a.m. Tuesday to 4 a.m. Thursday.
As of 9 a.m. Monday, the region is being pelted with several inches of snow, making for dangerous driving conditions across Sierra passes; chain controls are in effect across all major highways.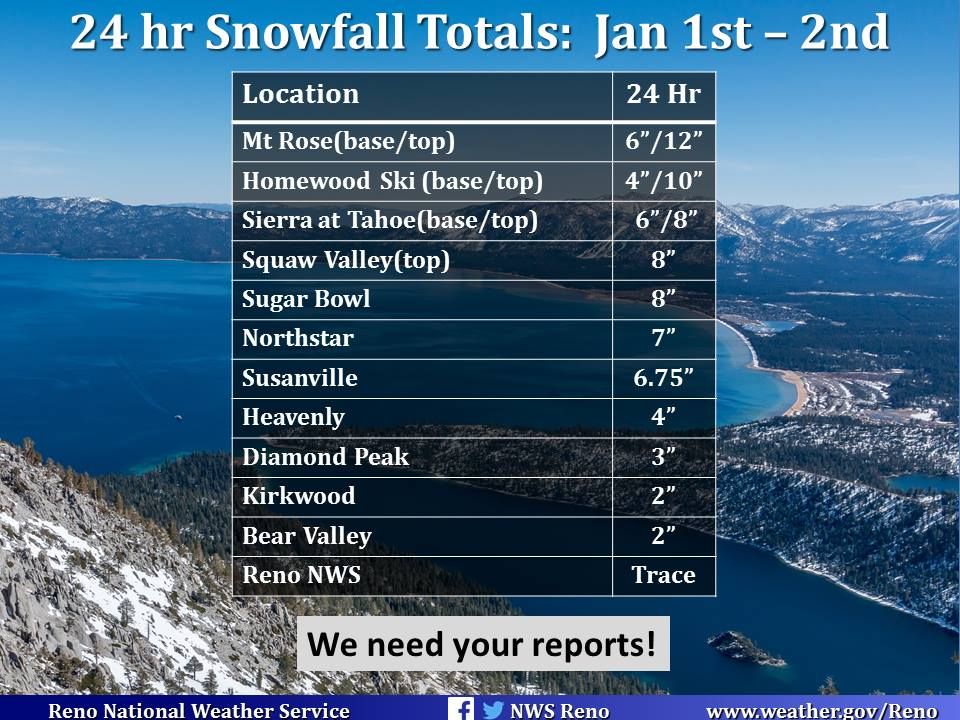 According to NWS, a foot of snow has already fallen at upper mountain at Mt. Rose Ski Tahoe, wth 6 inches at the base. Elsewhere, 10 inches has fallen at upper mountain at Homewood, with 8 inches up top at Sierra-at-Tahoe ski resort.
According to NWS, 10 to 20 inches of snow at higher elevations west of Highway 89 could fall by Tuesday morning, with 10 to 15 inches likely in the Northern Carson range near Mt. Rose. Five to 10 inches are likely at lake level.
The second storm is expected to bring an additional 2 to 3 feet of snow above 7,000 feet, according to NWS, with 12 to 18 inches likely at lake level.
Throughout the stories, wind gusts of up to 40 mph may result in areas go blowing snow, with reduced visibility and periods of whiteout conditions.
"Winds will be over 60 mph for exposed ridges," according to the weather service.
Motorists should prepare for the most dangerous of driving conditions, and if possible, avoid travel altogether.
"If you are not already on the road, you might want to delay your trip. We are working several collisions, vehicles spun-out and other traffic issues. Tow trucks are having a hard time getting to calls due to the heavy traffic," according to a statement at about 10:15 a.m. from the Truckee Police Department. "If you do choose to drive, be prepared for long delays, heavy snow, slick roads and poor visibility. Have food, water and warm clothes in case you get stuck. Remember your patience, you will need it."
Visit https://www.dot.ca.gov/hq/roadinfo/tahoe.htm to stay up to date with road conditions.
Read the Full Article:
TRUCKEE. Calif. — Mother Nature is off to a fine start to the year 2017, bringing a seri...