Ultimate Valentines Day Guide in Lake Tahoe and Truckee!
Before we get started on the list of things we put together for you to do, we asked some Truckee and Lake Tahoe locals what their favorite Valentine's Day Restaurants are and then we picked the top 3 for you to remember!
Voted Best Place to take a Date for 15 years in a row, the romantic setting combined with the innovative menu make dining at The Soule Domain a memorable experience.
Soule uses natural, free range, and organic meats and poultry whenever possible, local,seasonal produce and only the highest quality of ingredients in his dishes, which are prepared with love and respect. His passionate culinary skills create twists to traditional dishes and infusing them with influences from around the globe.
"I don't know which is better: the service or the food or the cozy atmosphere. All around, a fantastic dining experience. Highly recommend."

"The best food we've had in a long time!!! Everything we had was delicious and the presentation and staff were awesome!!! Going to go back a lot!!!"

"The best dinner I've ever had. Service was absolutely wonderful and not to mention the food was to die for. The escargot, duck, and the homemade ice cream were absolute heaven."
At Cottonwood Restaurant and Bar, fine dining, comfort and camaraderie join to create a truly matchless Sierra dining experience. Spirited tales of mountain adventure continue to echo within one of the nation's oldest ski lodges, which was hand built from salvaged railroad ties in 1928.
Revel in unmatched views of downtown Truckee and the surrounding Sierra from the vast Dining Room and expansive Deck. One of the best Truckee Restaurants. Cottonwood has it all; a vibrant heritage, a lively music scene, a full bar, and an adventurous menu.
"One of the best meals my wife and I have ever had. Highly recommend the whole leaf Caesar salad and any steak dish they are offering. We had the New York
strip last night. Great cocktails too!"

"Incredible meal with awesome view. Very relaxed atmosphere. Michael our waiter was awesome. French margarita was a treat as was the coconut ice cream pie with mango sauce. We will definitely return!"

"Great food priced right ,great people everyone there if friendly I'll be back!"
Le Bistro Restaurant Tahoe serves exquisite French fare in a romantic atmosphere. Le Bistro Incline Village Restaurant features prix-fixe menus that tantalize the taste buds of guests over the course of an evening.
The ambiance, food, and service all come together to make Le Bistro Restaurant Tahoe stand out from the pack. The restaurant's chef personally plates each dish that goes out to guests. This ensures that guests at Le Bistro Restaurant Tahoe receive satisfying and excellent meals.
"We have been coming here for 15 years. It is always amazing and the service is first class. I have referred dozens of people over the years and everyone has loved it. This is a must when in Tahoe."

"I have never had a meal there that I did not want to schedule the next one as soon as I could. Great food, wine, staff and chef is a gift to Incline Village!!! Cheers."

"Fabulous. Great food well prepared. Quaint small setting,quiet. Great service from an experienced and well trained team."
---
Local Valentines Day Specials and Special Menus
Camp Richardson at the Beacon
South Lake Tahoe, CA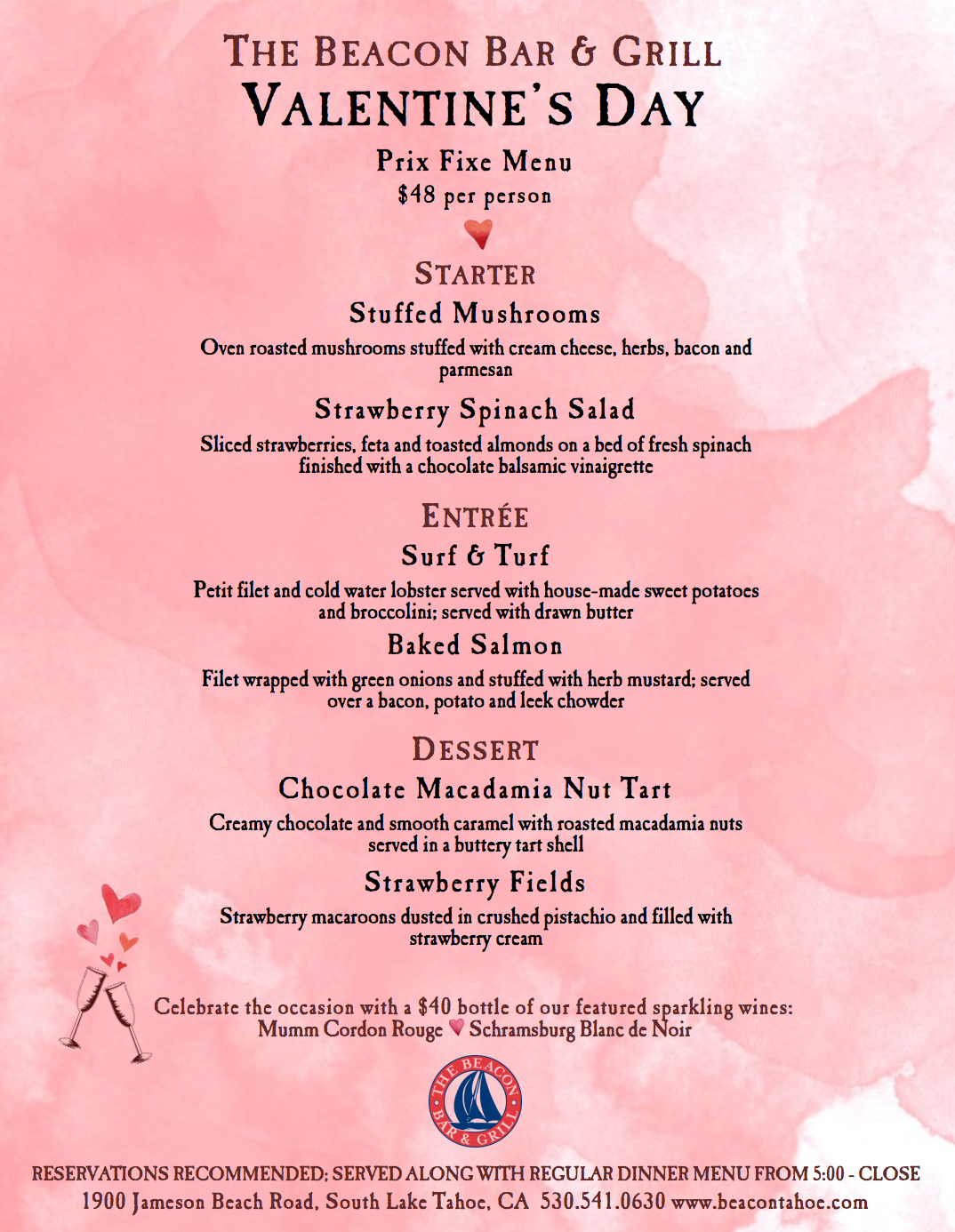 Treat the one you love to a romantic lakeside dinner on Valentines Day. The Beacon has a special, prix fixe, 3 course meal starting at 5:00. Served with their regular menu.
They still have a few reservations open (from 6:30pm to 8pm) so call 530-541-0630 to make yours asap!!
Big Water Grille
Incline Village, NV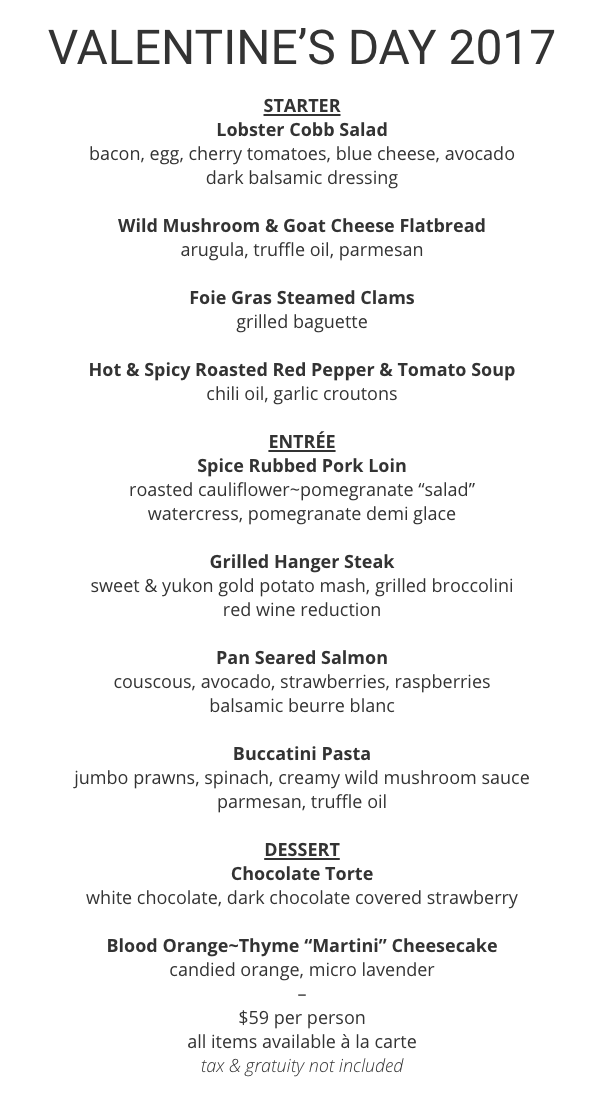 Call 775.833.0606 to make a reservation - they only have a couple tables of 2 open but their bar is open and larger tables are available as well! Anywhere you sit the Valentines Day menu from Chef Manuel Baez is the menu for the night. They will be seating from 5pm to 8pm.
Gar Woods On The Lake
Carnelian Bay, CA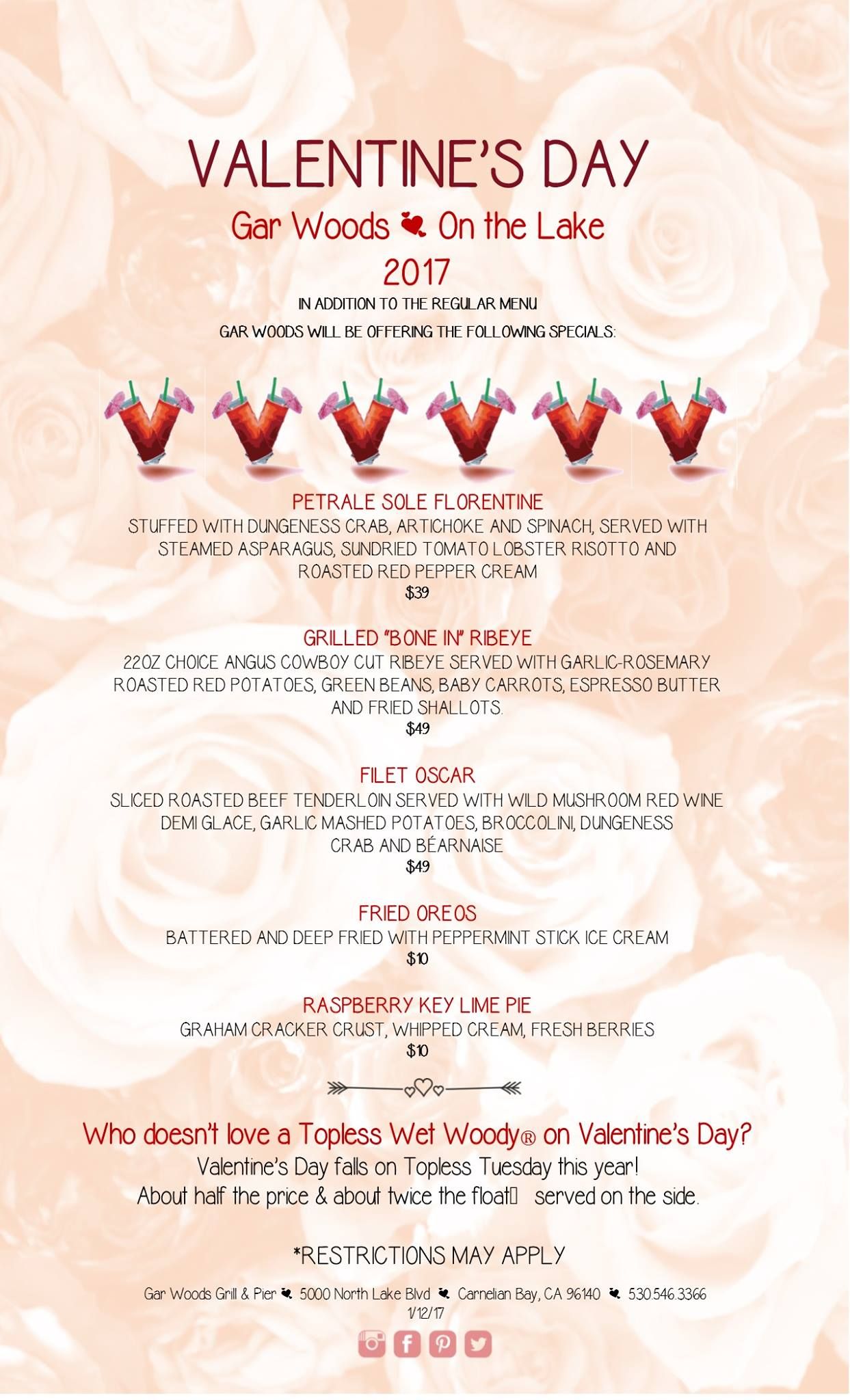 They have open availability all night, only time not available is between 6pm - 7pm. To Make a reservation call 530-546-3366. This is one of my favorite places on Lake Tahoe and you will NOT regret chosing Gar Woods for this Valentines Day celebration!
---
Valentines Night Ideas
MAGIC FUSION
South Lake Tahoe, CA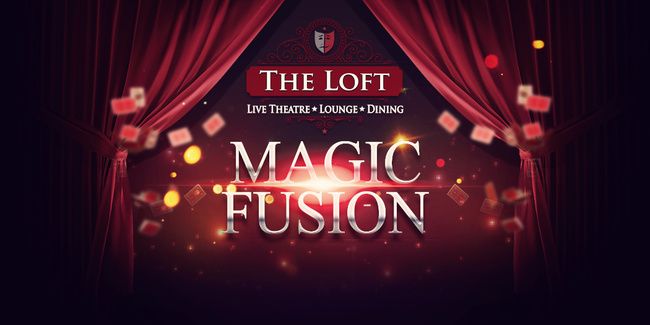 Doors Open at 7:15 pm / Show: 7:30 pm (event ends at 8:45 pm)
Bring your date or roll solo to the see the award-winning magicians from around the world!
$27.00 ADULTS PREMIUM | $37.00 ADULTS VIP | $19.00 CHILDREN
BUY TICKETS or Check out their website.
M.S. Dixie II Specialty Dinner Cruises
Zephyr Cove, CA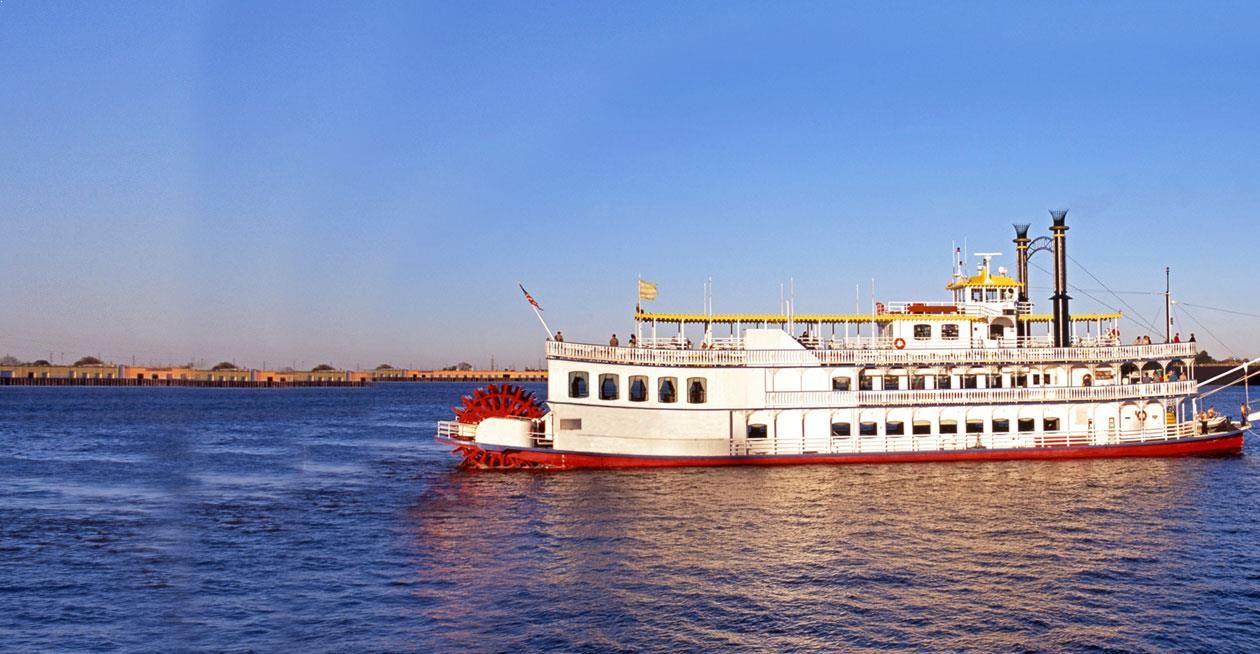 Enjoy a special gourmet dinner, music, and dancing cruise on beautiful Lake Tahoe!
$105.00 ADULTS | $40.00 CHILDREN
BUY TICKETS or Check out their website.
Northstar - The Village Cinemas
Truckee, CA

THE LEGO BATMAN MOVIE | Playing Tuesday February 14th at 4:00PM and 7:00PM
In the irreverent spirit of fun that made "The LEGO (R) Movie" a worldwide phenomenon, the self-described leading man of that ensemble - LEGO Batman - stars in his own big-screen adventure: "The LEGO (R) Batman Movie." But there are big changes brewing in Gotham, and if he wants to save the city from The Joker's hostile takeover, Batman may have to drop the lone vigilante thing, try to work with others and maybe, just maybe, learn to lighten up.
OR
HIDDEN FIGURES | Playing Tuesday February 14th at 4:30PM and 7:30PM
HIDDEN FIGURES is the incredible untold story of Katherine G. Johnson (Taraji P. Henson), Dorothy Vaughan (Octavia Spencer) and Mary Jackson (Janelle Monáe)-brilliant African-American women working at NASA, who served as the brains behind one of the greatest operations in history: the launch of astronaut John Glenn into orbit, a stunning achievement that restored the nation's confidence, turned around the Space Race, and galvanized the world. The visionary trio crossed all gender and race lines to inspire generations to dream big.
Villager Candle Shop, Pottery & More
Truckee, CA

The Villager Candle Shop, Pottery Painting & More carries an endless amount of candle shapes, 20 scents, and countless colors. The studio has space for small or large groups, and tables perfect for children of all ages. The knowledgeable staff can assist you in making candles or mosaics, or help you get all the supplies you need to make one at home. Bear Village is an area inside the Villager Candle Shop where you can create your own unique stuffed animal and accessories.
Ice Skating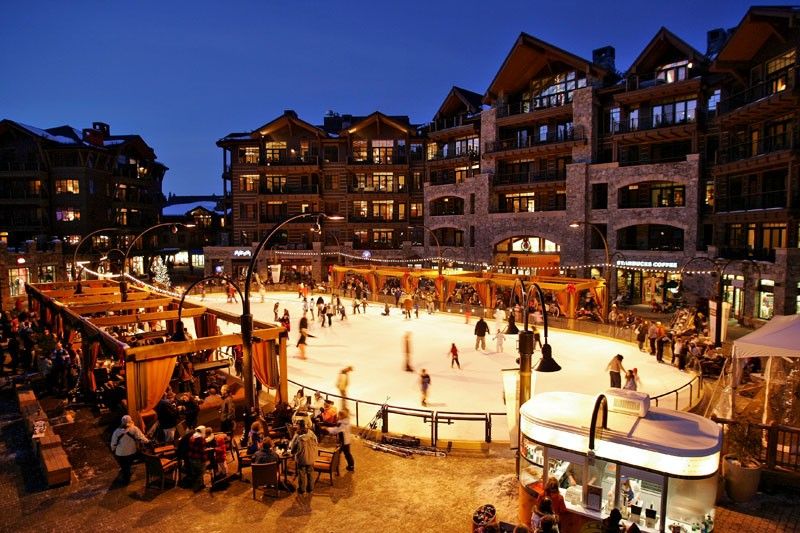 Visit one of these Ice Skating Rinks around Lake Tahoe to find a romantic place to Ice Skate under the stars.
Village at Northstar Ice Skating - 12AM - 9PM | Children and Adults are FREE | Ice Skate Rental $15.00
Village at Heavenly Ice Skating - 10AM - 8PM | Children 12 and under $15.00 - Adults $20.00
Free S'mores
Homewood, CA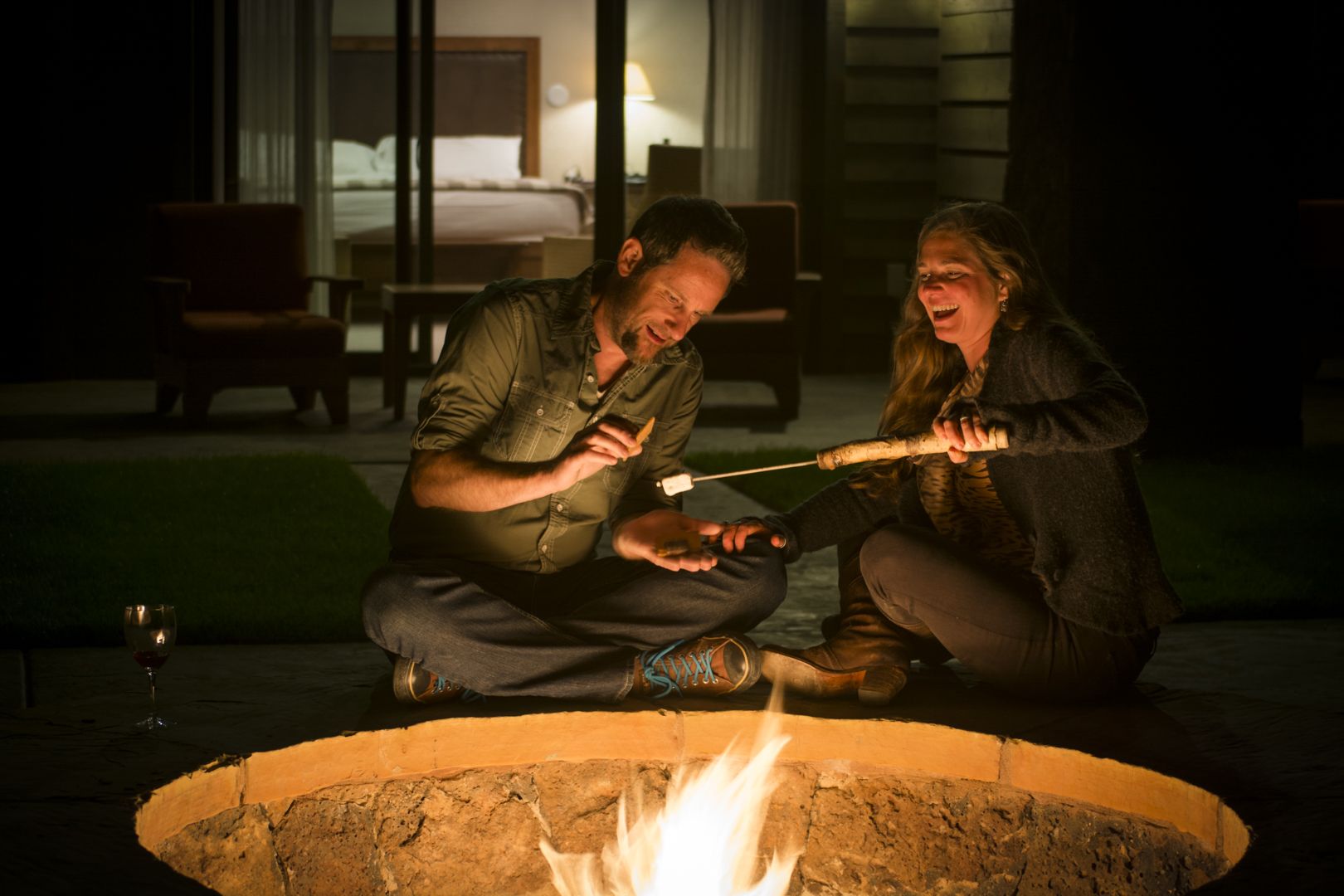 After a big day of skiing and riding at Homewood Mountain Resort, jump across the street and join us at the West Shore for Complimentary Après S'mores. Roast your marshmallows on our lakeside patio fire pits while you talk about the day's adventures on the slopes. Après S'mores runs from 4-4:30PM
(I double checked that this was happening and I am happy to say IT IS!!)
Romantic Snowshoeing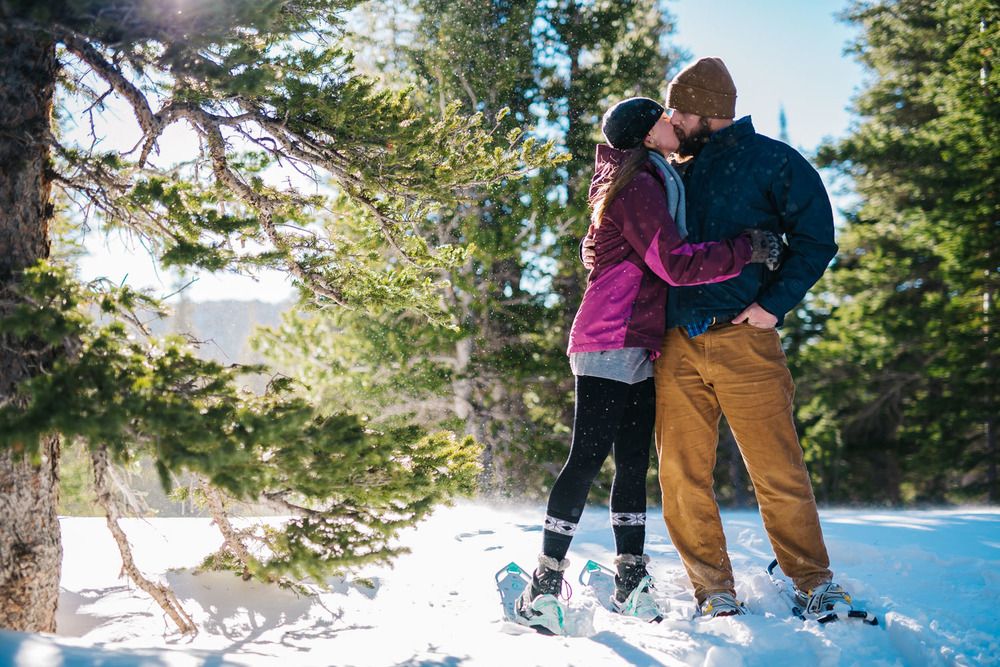 Sometimes the most romantic activities involve being outdoors together. Lake Tahoe is home to some amazing trails that are even more breathtaking when blanketed in snow. Bring snacks and a bottle of wine to enjoy at the top, and if your dog enjoys a good hike bring him or her along as well! Check out Reno Tahoe's snowshoeing guide to help you turn up the romance this Valentine's Day with invigorating views enjoyed alongside your loved one.
---
Single??
Tahoe University
Truckee, CA

Single (or wish you were) with no plans on Valentine's Day? Hang out with the Tahoe U crew from 5-8 PM on Tuesday, February 14 for free food, treats, champagne, and live tunes from local musician David Beck.
Harrah's Tuesday Night Blues
Stateline, NV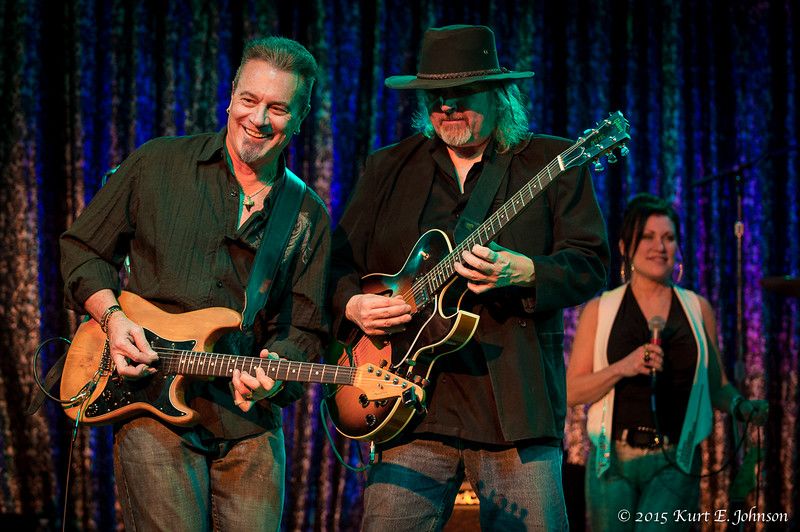 Locals and visitors are flocking to this hot entertainment offering at Harrah's Lake Tahoe, so head to Stateline on Tuesday nights and enjoy some roof poppin', red hot Blues music, free at Casino Center Stage!
Show time is 8PM every Tuesday.
Spindleshanks American Bistro Live Music Tuesdays
Kings Beach, CA

Come down and enjoy the acoustic sounds of Randy Blake. Music goes from 6pm-9pm all year round, and Happy Hour extends all night.
Tahoe Mountain Fitness
Truckee, CA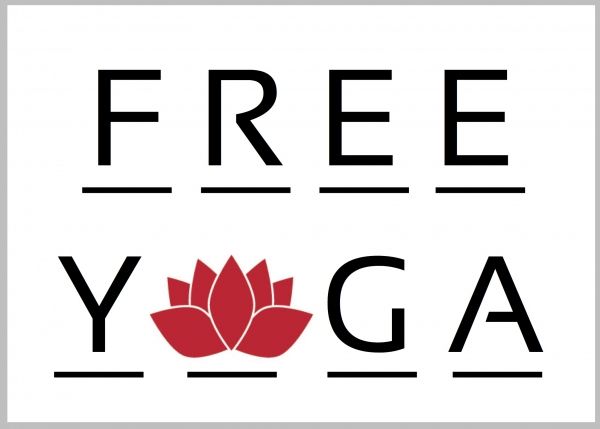 Your First Yoga or Roll & Restore Class at Tahoe Mountain Fitness is FREE through 2/28/17. Current & New Students can pre-register for a class at tahoemountainfit.com using promo code: YOGA *Good for any Yoga or Roll & Restore ClassPromo Good Through 2/28/17. Maybe you'll meet your valentine at Yoga??
---
Last Minute Local Gift Specials
The Oily Honu

VALENTINE'S SPECIAL = ANY 3 ($10 items) for $25 with a free Lip Balm
Clarifying & Toning Foaming Face Wash (4 oz) = $10
Clarifying & Toning Foaming Face Wash (12 oz refill jar) = $25
Lip Balm - Sin-A-Mint = $5
Lip Balm - Pink Lemonade = $5
Beard Oil - Traditional (4 oz) = $10
Beard Oil - Sophisticate (4 oz) = $10
Beard Balm - Traditional (2 oz) = $10
Beard Balm - Sacred Mountain (2 oz) = $10
Edible Chocolate Mint Body Butter = $10
Love Serum Personal Lubricant & Massage Oil (4 oz) = $10
The Pour House Wine Shop
Truckee, CA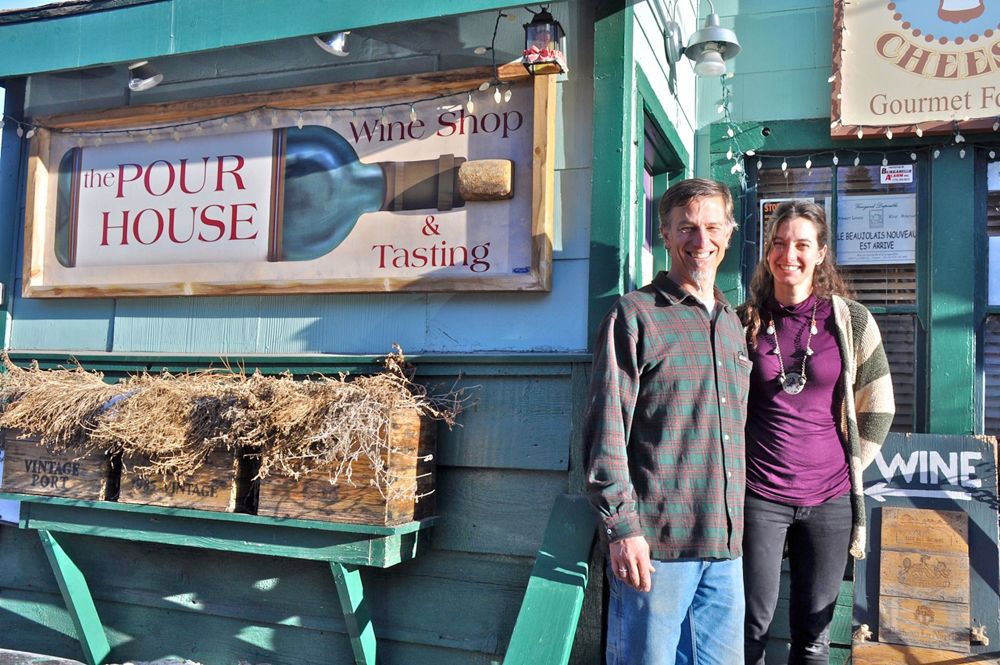 10% Off Chocolate & Wine
Get 10% Off when you purchase chocolate & wine together. Good through Valentine's Day!
Mountain Valley Meats
Truckee, CA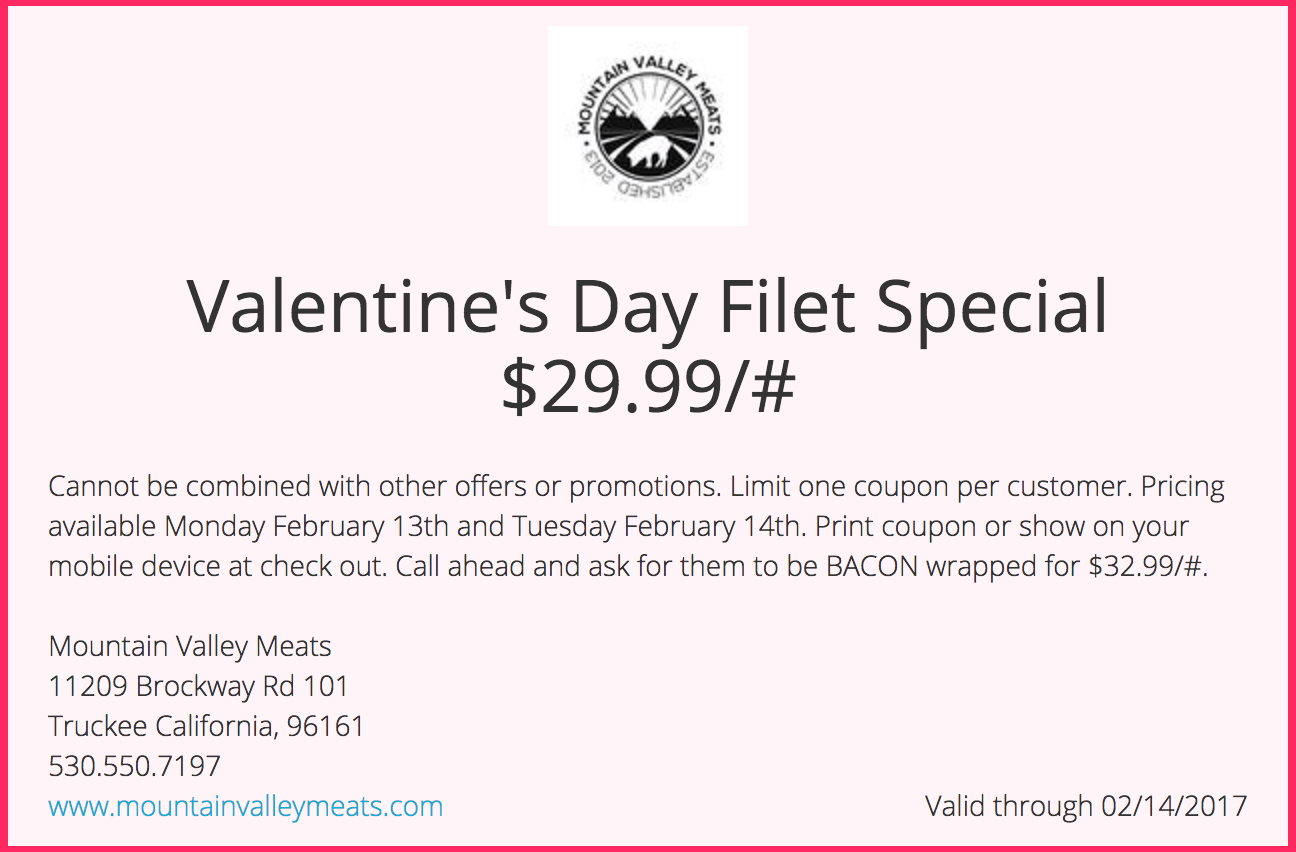 With a combined 35 years in the food industry, Jess and Brandon have set out to bring a quality Butcher Shop to Truckee. Both are chefs and have a passion for food. Jess and Brandon work together to create unique sausage recipes that are sold wholesale and in-house.
Pick up some delicious meat and cook your sweetheart a meal they won't forget!
Downtown

Take a quick trip downtown any of your surrounding Lake Tahoe areas and find unique, local gifts to make this Valentine's Day one your special someone will not forget.